Metavision Designer Tracking Sample
The Analytics API provides two algorithms for object tracking:
Each algorithm has a corresponding sample showing how to use it:
generic_tracking.py

spatter_tracking.py
Expected Output
Metavision Tracking sample visualizes events and tracking results, such as bounding boxes around the tracked objects with an ID of the tracked object shown next to the bounding box: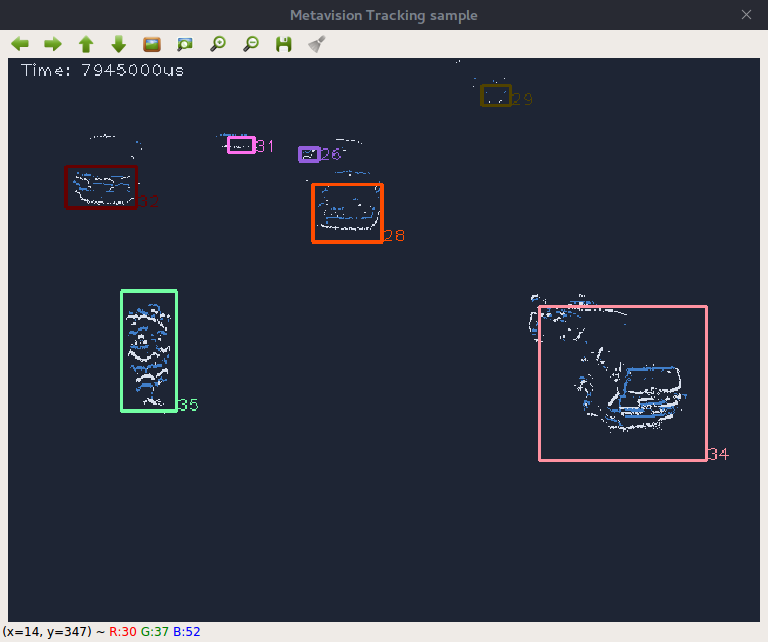 Setup & requirements
By default, Metavision Tracking has some constraints on the object size as it looks for objects of at least 10x10 pixels size.
None of samples has constraints on the direction of object motion.
How to start
Here, we take Metavision Tracking sample as an example, however, Metavision Spatter Tracker runs in a similar way.
To start the sample based on the live stream from your camera, run:
Linux
python3 /usr/share/metavision/designer/analytics/samples/generic_tracking.py



Windows
python "C:\Program Files\Prophesee\share\metavision\designer\analytics\samples\metavision_generic_tracking.py"



To start the sample based on recorded data, provide the full path to a RAW file (here, we use the file traffic_monitoring.raw from our Sample Recordings):
Linux
python3 /usr/share/metavision/designer/analytics/samples/generic_tracking.py -i traffic_monitoring.raw



Windows
python "C:\Program Files\Prophesee\share\metavision\designer\analytics\samples\metavision_generic_tracking.py" -i traffic_monitoring.raw



To check for additional options:
Linux
python3 /usr/share/metavision/designer/analytics/samples/generic_tracking.py -h



Windows
python "C:\Program Files\Prophesee\share\metavision\designer\analytics\samples\metavision_generic_tracking.py" -h