Interoperability Sample using Python
The sample metavision_interop.py shows how to read multiple AER events file formats.
The following formats are supported:
The source code of this sample can be found in <install-prefix>/share/metavision/sdk/core/python_samples/metavision_interop when installing Metavision SDK from installer or packages. For other deployment methods, check the page Path of Samples.
Expected Output
The sample visualizes CD events read in the input file: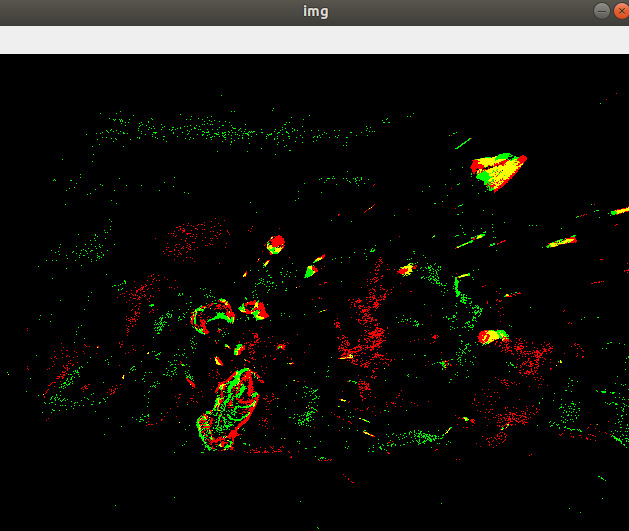 Requirements
Some Python libraries have to be installed to read rosbag and aedat4 formats:
to read rosbag file, you need to install the rospy library

Linux

python3 -m pip install --extra-index-url https://rospypi.github.io/simple/ rospy rosbag




Windows

python -m pip install --extra-index-url https://rospypi.github.io/simple/ rospy rosbag




to read aedat4 file, you need to install the aedat library

Linux

python3 -m pip install aedat




Windows

python -m pip install aedat



How to start
To start the sample on a ZIP file containing a TXT file in CSV format downloaded from the High Speed and High Dynamic Range Video with an Event Camera Dataset page , provide the full path to the file:
Linux
python3 metavision_interop.py /path/to/gun_bullet_gnome.zip



Windows
python metavision_interop.py /path/to/gun_bullet_gnome.zip



To check for additional options:
Linux
python3 metavision_interop.py -h



Windows
python metavision_interop.py -h